The challenges of the last 8 months have substantially changed the way business is done in the construction industry. From increased cleaning requirements to masks to distancing, our world looks vastly different now than it did at the beginning of this year. Because construction is essential, however, the show must go on, albeit with some modifications to our daily routines!
At KKG, we have put several transmission-prevention systems in place to keep our employees safe and allow our doors to stay open. We have managed to avoid any outbreaks, remain in the office full-time, and even make it to our job sites regularly! This is a major boon to our clients, who may be working from home and rely on our office to keep a close watch over the details of their projects.
Here are a few changes we've made to keep things running safe and smooth:
Socially Distanced Workspaces
Unidirectional Office Travel
Educational Materials for All Employees
Mandatory COVID Testing for Symptomatic Employees
Increased Cleaning/Sanitizing of High Traffic Areas
Through these new protocols, we aim to stay active on all projects. As the situation continues developing, we will remain flexible and ready to provide the best-in-class project management our clients have come to expect.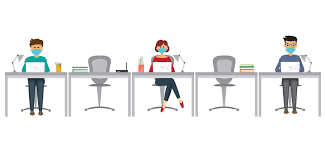 Stay Safe, Wear a Mask, Slow the Spread!